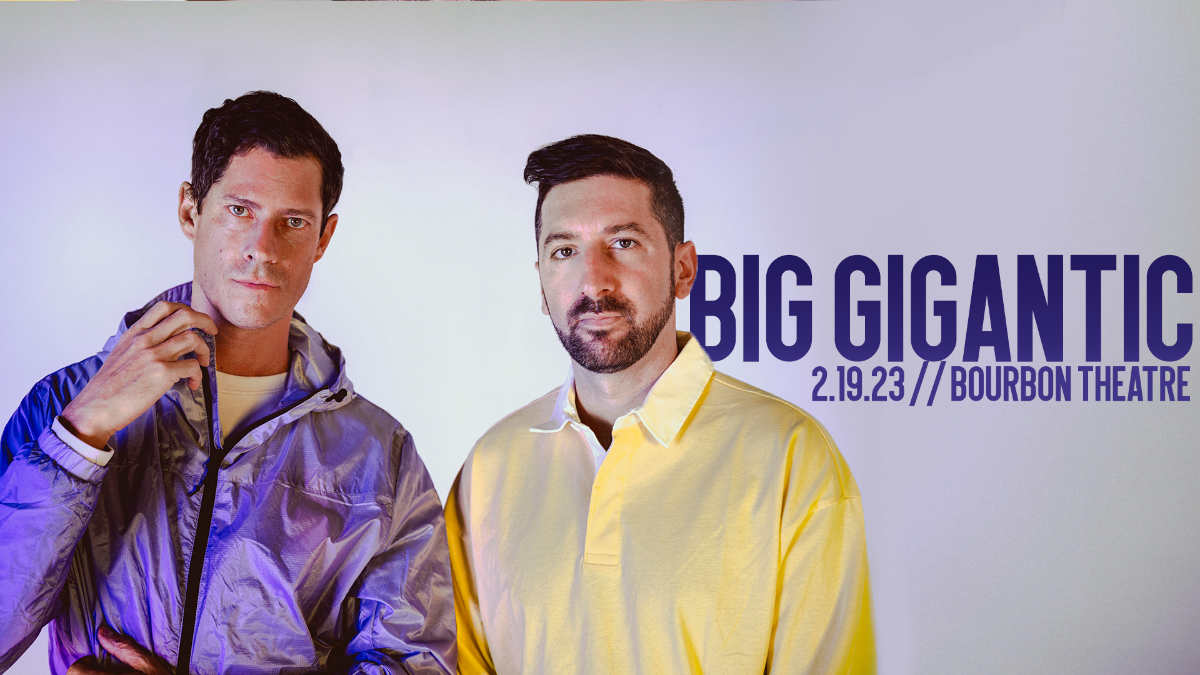 BIG GIGANTIC - Brighter Future Tour
Sun
Feb 19
08:00 pm
(Doors:

07:00 pm

)
All Ages
with EAZYBAKED & AHEE
Doors: 7 p.m. || Show: 8 p.m. || All Ages
$38.50: GA Advance || $41: GA Day of Show
$124: Table of 2 || $248: Table of 4
$2 Minor Fee at the Door

GA = standing room only

Tables are assigned and labeled based upon time of purchase
---
Artists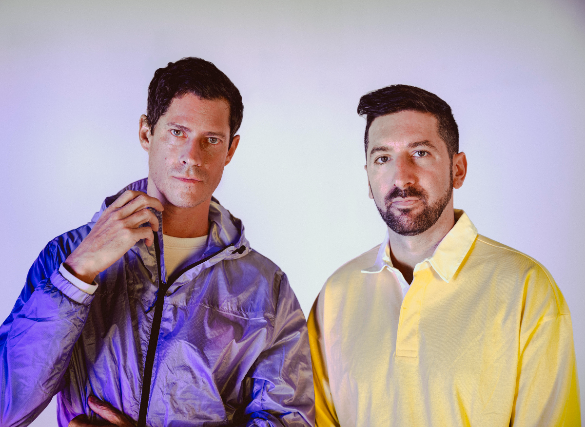 Self-love precedes freedom.

Confidence actualizes risk-taking and the fulfillment of dreams. Emboldened by new levels of belief and shared growth over the course of a decade-plus together, Big Gigantic follow a path towards creative and personal awakening on their seventh full-length album, Free Your Mind. The Boulder, CO duo-Dominic Lalli and Jeremy Salken-articulate meaningful and melodic songs through a signature hybrid of deft live instrumentation, immersive production, heart-pumping percussion, and, of course, scorching saxophone.

Now, these thirteen tracks echo boundless and bold confidence.

"It starts with accepting and loving who you are," explains Dom. "After acceptance, your mind is free. You can go further and be more open. You go out on a limb and connect to new people. It means something to us individually too. When you love yourself, you're able to be clear about what you want and hope for. Self-love is the beginning. By showing up fully for yourself, you can show up for those you love. You can use that gratitude to spread positivity."

"You can't love anybody until you love who you are first," Jeremy agrees. "Start at the core and go from there. You stop beating yourself up and realize you need to be there for yourself. If you're at one, you're able to pursue those dreams."

In many ways, Big Gigantic quietly closed in upon this realization since 2009. Along the way, the group dropped six full-length offerings, culminating on 2016's Brighter Future. The latter generated staggering numbers across streaming platforms with 100 million-plus plays highlighted by the success of powerhouse collaborations such as "All of Me" [feat. Logic & ROZES], "The Little Things" [feat. Angela McCluskey], "Highly Possible" [feat. Waka Flocka Flame], "Wide Open" [feat. Cherub], and more. Not to mention, they landed high-profile syncs by Apple, Wimbledon, NASCAR, NBA, HBO, Fox, and many others as well as placing music in trailers for Valerian and Dirty Grandpa.

On the road, they held down main stage spots at marquee festivals, ranging from Coachella, Lollapalooza, ULTRA Music Festival, and Hangout Music Festival to Electric Forest and Bonnaroo in addition to headlining and selling out their own Rowdytown at Red Rocks Amphitheatre for eight years running. Powered by mind-blowing proprietary technology, the show evolved into an all-encompassing 3D experience at Rowdytown-which they will bring on the road for their biggest tour to date in 2020. Meanwhile, their 501(c)3 A Big Gigantic Difference Foundation regularly raises money for non-profits benefitting at-risk youth, music education, and other worthy causes, yielding nearly $250,000 to date and donating $1 of each ticket sold.

However, Dom and Jeremy made a conscious decision to live the philosophy of Free Your Mind to the fullest. Assembling the record throughout 2019, they engaged a new approach.

"I did almost everything myself on Brighter Future," Dom goes on. "Free Your Mind is about doing something different and taking what we have and getting out of the box. Of course, a lot of it started at home working on demos, but the vision was more song-oriented. It's melodic. That's the biggest difference. We expanded the form, flipped things, and made them interesting."
At the same time, they launched an innovative rollout, engaging their devout and diehard audience directly. On their official web site, they posed a series of questions tied to each single, imploring fans to answer. These queries incited thousands of responses.
"To free your mind, you have to look inwards," explains Jeremy. "So, we decided to invite fans to do the same thing with us."
Simultaneously, each single referenced a clear theme as well with "self-love" for lead-off "You're The One" [feat. Nevve], "friendship" for the aptly titled "Friends," and "living in the present moment" for "Where I Wanna Be."
Elsewhere, the fourth single "Burning Love" [feat. Kidepo] illuminates another side of Big Gigantic. Tapping into an Afrobeat bounce, tropical percussion pulsates underneath a swaggering and soulful vocal from Kidepo. The subject matter represents their progression.
"We've never really had a classic sweet love song in the past," Dom states. "It's like a conversation between significant others. We really jumped on it."
"St. Lucia" [feat. Felly] sways from a steady beat to a resounding refrain between airtight raps. For the title track, they re-recorded, reimagined, and re-upped "(It Happens) Sometimes" by Jack Back a.k.a. David Guetta with help on the mic from frequent collaborator Jennifer Hartswick. The rising synths, dramatic drops, and dancefloor energy immediately pop off alongside her manic vocals.
"It goes back to the title," Jeremy elaborates. "Over the last year-and-a-half, I've grown a lot personally. Going through that process allowed me to connect with myself more and know the direction I needed to go."
"Plus, we really freed our minds musically," Dom exclaims. "It's the truth."
In the end, Big Gigantic embrace self-love only to encourage it on the largest scale yet via the record and the ensuing tour.
"This embodies everything we're about," Jeremy leaves off. "It's our lives. It's what we've been working towards for eleven years since our first show. It's a learning process. We've reached crazy goals, but we keep setting our sights as high as possible. The fans bring us there. We wouldn't be anywhere without them. They're on the journey alongside us."
On this journey, the humanity we share shines through.
Dom concludes, "The album is about exploring all of the different things that make us human-the things that connect us to ourselves and to each other-so that we can know our true ourselves and live our greatest lives without holding us back. It's about releasing ourselves from feelings of needing to be perfect and feelings of inadequacy or comparison, so we can step into our full power and live big, beautiful, and fulfilling lives."
Social Links
---
---
---
---