Descendents, Joyce Manor, Night Birds
Thu
October 10, 2019
8:00 pm
(Doors:

7:00 pm

)
Bourbon Theatre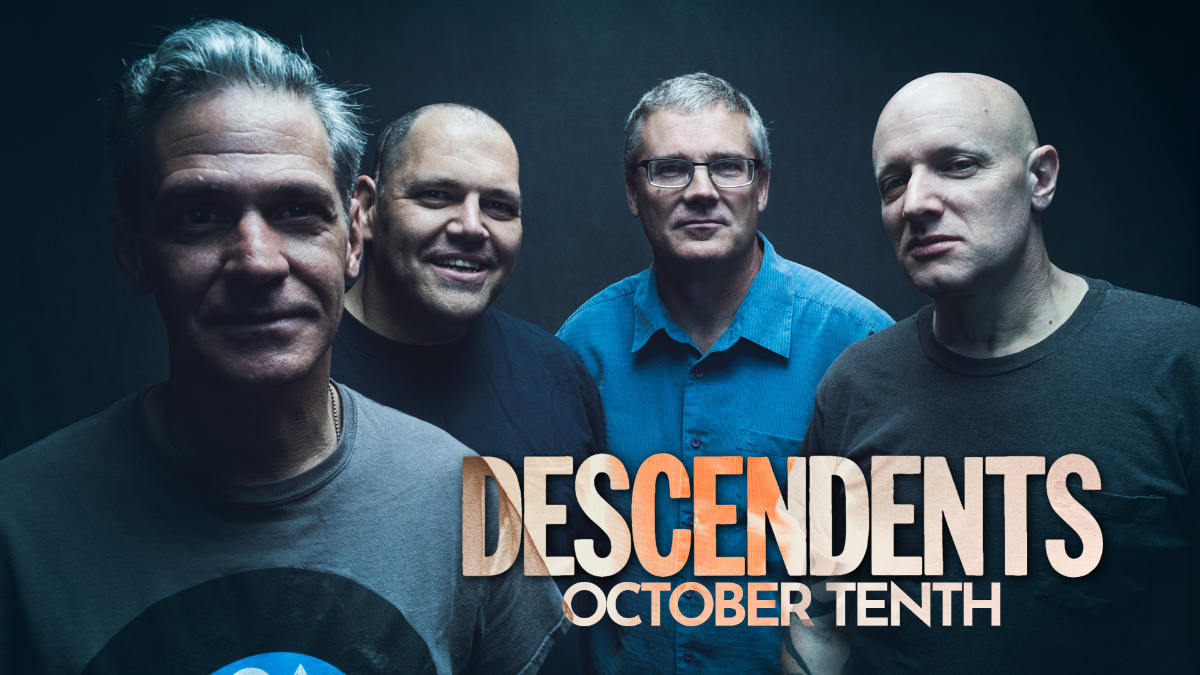 Doors: 7 p.m. || Music: 8 p.m. || All Ages
$35: GA Advance || $40: GA Day Of Show
$100: Table of 2 - SOLD OUT || $200: Table of 4
$2 Minor Fee at the Door
Tickets on-sale Friday April 26th at 10 a.m.
GA = standing room only
*View larger seating chart*
::: Descendents :::
Every Descendents album is an event. Formed in '78, the band's first releases have proven historic, and all the ones since have only further refined the Descendents concept. Punk, pop, buzzing, summery, heartfelt, defiant, adolescent, and wise all at once -- the Descendents sound never gets old. And while fans got the band's full story in the acclaimed documentary, Filmage, it's been twelve years since there's been new Descendents music. Finally, here comes their long-awaited next LP, Hypercaffium Spazzinate.
Descendents' first Epitaph Records release since Everything Sucks in 1996, Hypercaffium Spazzinate began taking shape after the band ended an extended hiatus to play live in 2010. Though still tight, they lived apart: singer Milo Aukerman -- whose cartoon rendering famously serves as the band's logo -- was now living in Delaware, bassist Karl Alvarez and founder and drummer Bill Stevenson were in Colorado, and guitarist Stephen Egerton had settled in Oklahoma. So the album came to life over three years as the band sent tracks back and forth, occasionally meeting up in Karl and Bill's adopted hometown of Fort Collins. Adopting such a protracted process meant not having to rush things, allowing for some of their sharpest songwriting yet.
It's an album every bit as charged as the band's iconic full-length debut, 1982's Milo Goes to College -- or anything since. "I think one of the things that's kept us inspired over the years is having the music as an outlet for our frustrations," says Milo, who delivered a particularly impassioned, even aggressive vocal performance. "Having the freedom to completely blow my voice out every time I recorded was a very positive experience for me," he says.

[more]
Based out of Torrance, CA, pop- punk band Joyce Manor began its start in late 2008. They began as a duo of Barry Johnson (vocals, guitar) and Chase Knobbe (guitar) but they eventually expanded a year later with new members Kurt Walcher (drums) and Matt Ebert (bass, vocals). Joyce Manor released a split 7" alongside native Californians Summer Vacation in the fall of 2010 through Muy Autentico Records. They also released the five song Constant Headache demo. In the summer of 2010 they signed with 6131 records where they released their self titled, full length debut album in 2011. They gained widespread recognition and began nationwide touring. Joyce Manor signed to Asian Man records for their next album entitled, "Of All Things I Will Soon Grow Tired" which was released in April 2012. With melodic sounds that draw on influences from Weezer and Guided by Voices Joyce Manor continues to boast their unique sound and build on their home grown roots.