Ministry, Chelsea Wolfe, The God Bombs
Thu
April 5, 2018
7:30 pm
(Doors:

7:00 pm

)
Bourbon Theatre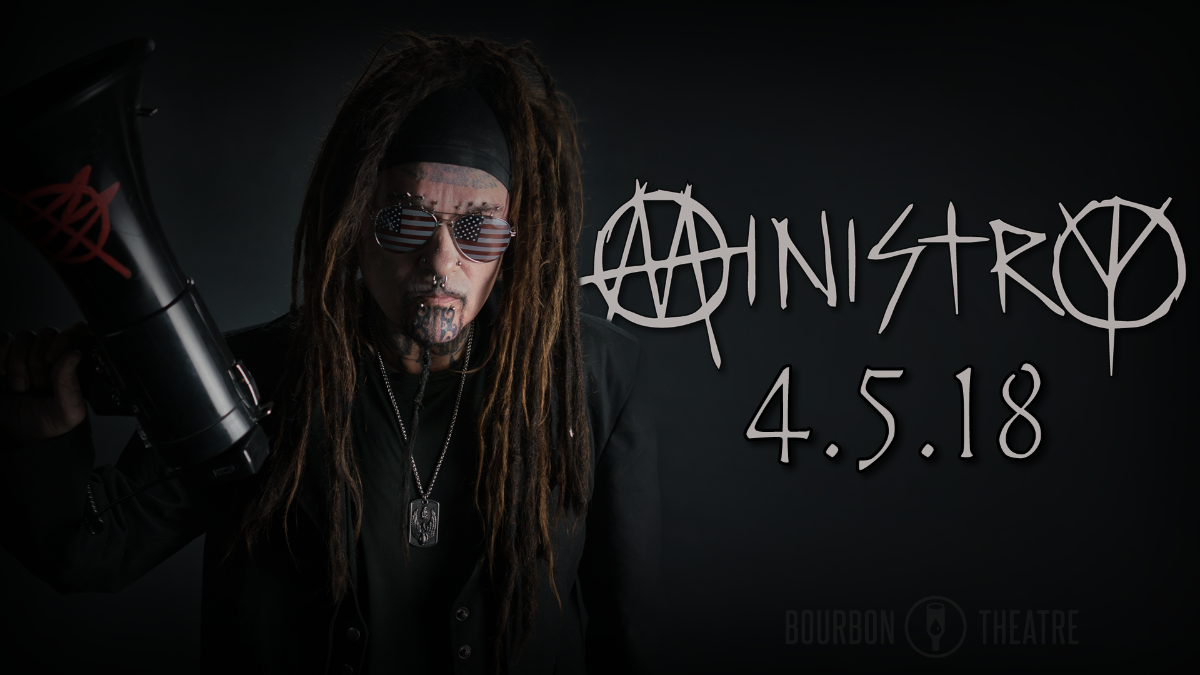 Doors: 7 p.m. || Show: 8 p.m. || All Ages
$35: Advance GA || $40: Day of Show GA || $2 Minor Fee at the Door
Tickets On-Sale December 13th @ 9 a.m.

::: Ministry :::

Al "Fucking" Jourgensen, is the undisputed king of Industrial music. The Godfather of a genre he helped to create and mold into something millions of fans have grown to love throughout its 30+ years in development. You can't say his name without thinking of heavy guitar riffs, crushing drum beats and unmistakable samples. Even his image is iconic and recognizable. You immediately think of a man in black, with top hat and flowing dreadlocks. And lets not forget his wild life and crazy antics that make Motley Crue look like school boys.
Alejandro Ramirez Casa was born in Havana Cuba in October of 1958 to Cuban - American parents. He lived there just a short time before moving with his mother to the United States to the suburbs of Chicago. She remarried a Norwegian stock car mechanic and driver named Jourgensen from which he would be immortalized under. This won't be the last time for a name change as we have learned throughout his illustrious career of bands and new personas that seem to grow from each. He bounced back and forth between Colorado and Chicago during his early years for school before truly calling Chicago his home.

[READ MORE]
MINISTRY's Al Jourgensen, the acclaimed pioneer of industrial music, doesn't muck around, doesn't sugar-coat, doesn't pull punches. He's highly opinionated, exceptionally well read and articulate on subjects ranging from politics to alien conspiracies to American history to his beloved Chicago Blackhawks/Bulls/White Sox/Bears. He is an avid follower of NASA scientist David S. McKay, ancient civilizations scholar Zecharia Sitchin, astrophysicist Neil deGrasse Tyson, and Scottish writer/archaeologist/scientist Graham Hancock. During a layover at the Las Vegas airport this past summer, Jourgensen spotted U.S. Congressman Adam Schiff, introduced himself, and took full advantage of the encounter to let the Congressman know of his views on tax reform and the possible perils of redistribution of wealth, the current obstruction of the "Russia-gate" investigation by the House Intelligence Committee lead by Republican Chair Devin Nunes, and to inquire about the status of the possible impeachment of the President, on not only obstruction and collusion charges, but for treason.
Now, in 2017 MINISTRY has reunited, revamped its line-up, signed to Nuclear Blast Records, recently returned from a full world tour, and is now preparing to release their 14th studio album, »AmeriKKKant«, on March 9th 2018. Society and Politics have taken a turn for the insane and frightening in the United States and across the globe, leaving much inspiration and frustration for MINISTRY to draw from. Jourgensen remembers his shock while witnessing everyone and everything around him during the recent election process, and awoke on the morning of November 9th 2016 proclaiming: "We are making a fuckin' album - right now."
"What I want is to open up. I want to know what's inside me. I want everybody to open up. I'm like an imbecile with a can opener in his hand, wondering where to begin—to open up the earth. I know that underneath the mess everything is marvelous. I'm sure of it."
– Henry Miller
Digging beneath the mess of the world to find the beauty underneath is perhaps the most consistent theme in Chelsea Wolfe's expansive discography—a theme that ties together her ceaseless explorations in unorthodox textures, haunting melodies, and mining the grandeur embedded within ugliness and pain. With her sixth official album Hiss Spun, Wolfe adopts Miller's quest to become empowered by embracing the mess of the self, to control the tumult of the soul in hopes of reigning in the chaos of the world around us. "I wanted to write some sort of escapist music; songs that were just about being in your body, and getting free," Wolfe says of the album before extrapolating on the broader scope of her new collection of songs. "You're just bombarded with constant bad news, people getting fucked over and killed for shitty reasons or for no reason at all, and it seems like the world has been in tears for months, and then you remember it's been fucked for a long time, it's been fucked since the beginning. It's overwhelming and I have to write about it."