Crowbar, Tombs, Incite, Tri County Terror
Sat
November 25, 2017
8:00 pm
Duffy's Tavern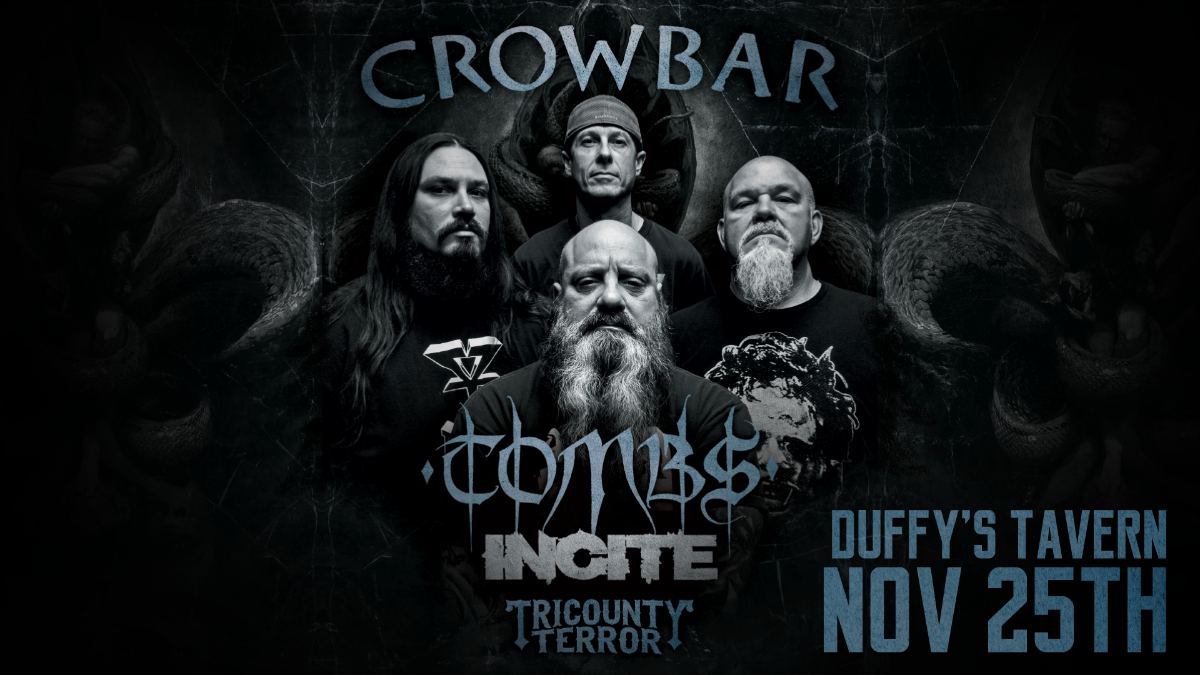 Showtime: 8 p.m. || 21 and up
$12: Advance || $15: Day of Show

::: Crowbar :::

1989. That's 27 long years ago. Countless memories. Some still vivid, most just a blur. The one constant thing has been my focus and desire. The same vision I had in '89 is still burning strong in my head. Possibly stronger than ever. When you put this much blood, sweat and tears into something you can never look back. Fueled by the down-tuned sludge of the Melvins and the over-the-top aggression of Peter Steele's Carnivore, I set out to create my own beast and Crowbar was born. The band's sound was labeled Doom-Core by the European press shortly after the debut release of OBEDIENCE THRU SUFFERING. I found it to be quite fitting then and still do honestly. Crowbar have released 10 full length cd's, the second selling over 100,000 units worldwide. We threw in a live EP and a few compilations for good measure and that's where we stand today. Anyone who knows Crowbar is familiar with the numerous label and line-up changes over the years. I couldn't be more happy with the group of guys in our current lineup. In terms of musicianship, loyalty and friendship, this is our strongest lineup to date. Period.

As I am typing this, we are furiously writing a new full length for you. We will also be re-releasing most of our back catalog through eOne. I've lived a thousand life times over the course of the last 27 years, but this old dog's got a lot more than you think left in the tank!
Starting in 1989 and taking its name from the Crowbar group in NOLA (New Orleans), Kirk Windstein went on to pioneer slow and heavy music with a unique vocal style. Their first album, Obedience Thru Sufferingwas released in 1991, but failed to achieve notoriety. By 1993's self-titled Crowbar album, personal friendPhil Anselmo (Pantera, Down, and Superjoint Ritual among others) produced the record, which eventually led to national promotion on MTV's Headbanger's Ball. Phil sang back up on a few tracks and sang background on "Broken Glass" which rounded out the anthems "All I Had (I Gave)," "I Have Failed" and "Existence is Punishment" along with a new take on the Led Zeppelin song "No Quarter." Following their success the band went on to record music videos, major tours with Pantera, and more albums. Their band stage antics became infamous, which led to being immortalized in the Pantera "Home Video 3" and Crowbar's "Like Broken" Home Video.

As time moved on the band lost its founding members with the exception of vocalist/guitarist Kirk Windstein. After Todd Strange left the band, the trademark 300-pound-plus band members slimmed down. The band continues to perform, borrowing members from NOLA metal bands like Goatwhore and Acid Bath. In their recent 2005 release, Lifesblood for the Downtrodden, Pantera bassist rex brown lent his bass duties and keyboard playing and Down's producer Warren Riker.