CJ Solar, The Allendales
Sun
November 20, 2022
8:00 pm
(Doors:

7:00 pm

)
Bourbon Theatre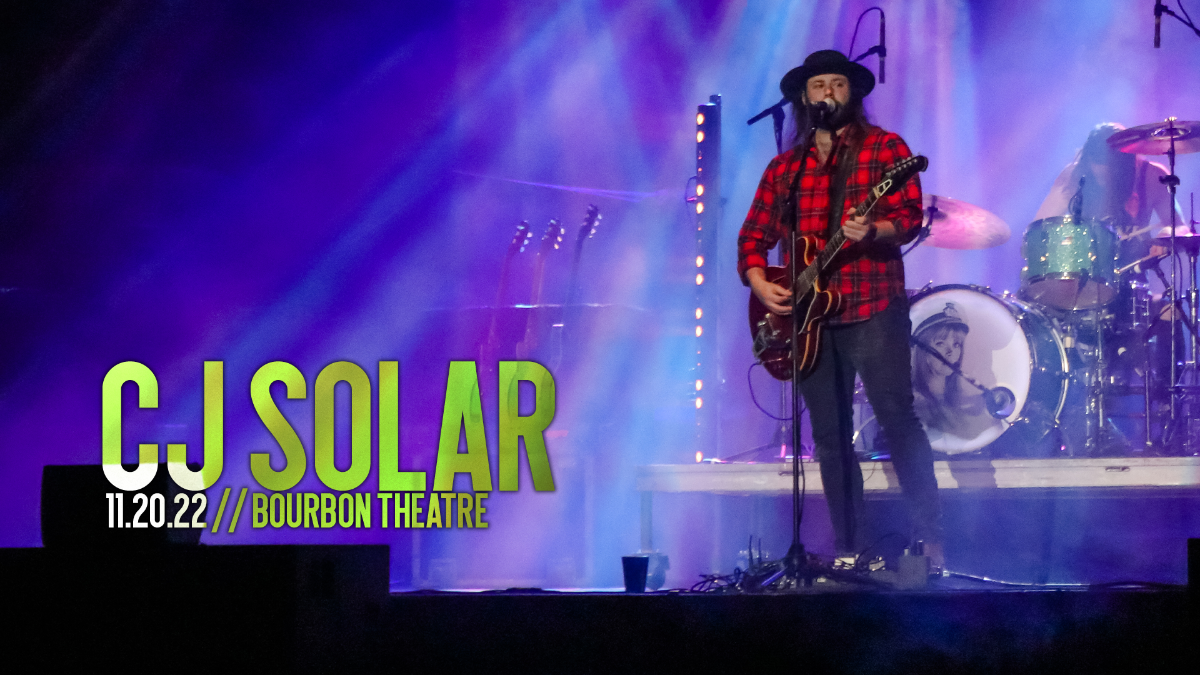 Doors: 7 p.m. || Show: 8 p.m. || All Ages
$15: GA Advance || $20: GA Day of Show
$2 Minor Fee at the Door

GA = standing room only
With the fuel of both Southern rock and country music influences pumping through his veins, it's no surprise that Sea Gayle Music's CJ Solar is a natural at fusing the two worlds. Combine that with Delta blues, compliments of a childhood spent in Cajun country, and you've got one badass up-and-comer, with the pure musical talent and vocal chops to back him up. Already turning heads throughout Nashville, Baton Rouge and beyond, having been named one of the "Top New Artists You Need To Know" by Rolling Stone Country, CJ says the driving force behind his current success isn't fame nor fortune – it's just a diehard infatuation with the music he grew up on.
"I just want to write songs that say something that really means something. I want to ride around in a van, tour the country, and play songs with my buds. Everything I do in music, I want to do it for the love of the music and the sake of the song," he adds.
It all started back in Baton Rouge where his family's affinity for music struck a chord. "My grandparents loved country music. My dad was a big classic rock fan," he said. "Dad kept a guitar in a closet, and I dug it out when I was seven and started making noise of my own with it," Solar recalls. That so-called "noise" would sharpen quickly, through lessons at the young age of eight, to enrollment at Nashville's Belmont University, to cuts on albums by Justin Moore and Jerrod Niemann, and, now, his own critically acclaimed solo EP that's turning heads, Hard One to Turn Down.
And a Hard One To Turn Down, the EP is. Critics at The Daily Country write, "Solar injects a hefty (and welcome) dose of Southern rock into his country, which melds perfectly with his gravelly vocals." Country Music Rocks was "immediately captivated by all five songs and hopes that [the EP] obtains the recognition it deserves." The Rowdy found it "exactly what country fans are looking to savor." And The Shotgun Seat welcomes Hard One to Turn Down as "the perfect pairing of country storytelling and rocking rhythms, married by his dynamic vocals." And that's only the beginning.
Flashback to Louisiana where CJ put a group together while in elementary school, recruiting his two brothers. They called themselves The Solar Heat, recollected by CJ as "the cheesiest band name of all time." But the band built up a solid local fan base, and helped CJ hone his writing and performance skills. However, CJ knew he needed to be in Nashville where he attended Belmont and landed an exclusive publishing agreement before he had even graduated.
"I'd recorded some of my best songs in December of my senior year," he says. "When I started interning at Sea Gayle Music in February, I played these and two other songs I hadn't recorded for Mike Owens (VP Creative at Sea Gayle). A week later I had a publishing deal. I'm pretty sure that's not the way it happens with most interns. I'm grateful for these opportunities, and I don't plan on taking them for granted."
The ink was still wet on Solar's degree when artists all over town started putting the new Nashville songwriter's self-penned songs on hold. "Blue Bandana," which he'd written in January, was chosen by Jerrod Niemann and released as a single. Then, Solar began writing with Bob DiPiero and other members of Nashville's songwriting elite.
Solar tracked and produced Hard One To Turn Down, alongside Sea Gayle's Brent Anderson, (who's producing and songwriting credits include Chris Janson, Blake Shelton and others), with established country hit-maker Jerrod Niemann joining in on one song as guest vocalist. Its lead single, a paean to the powers of sipping on a "Tall Boy," dropped in mid-March and quickly garnered over 164,000 Spotify spins in its first month of release. The EP followed on April 15, in both digital and physical formats. In May, the music video for "Tall Boy," directed by Marcel Chagnon, premiered on CMT. Tour dates from coast to coast include his own headlining dates and opening slots for The Cadillac Three, Old Dominion, Hank Williams, Jr., and the list goes on.
If it's not obvious yet, Solar is on the fast track to success, with a solid team in Nashville to back him up. And he's not going to leave any stones left unturned. As important as songwriting is and will always be to Solar, he is excited to be stepping into the spotlight as an artist. CJ is a powerful vocalist with his Southern, gravelly edge and he has the guitar chops to match. His live show puts it all together and will knock you off your feet.
Yet the pensive, bolero-brimmed, too-wise-for-his-age 23-year-old is riding his momentum thoughtfully, with the long haul in mind. "I'd love to tour the country and have a handful of hit songs," he muses. "But I'm totally cool with living pretty normally as long as I need to. All that matters is that I keep doing what I love to do."